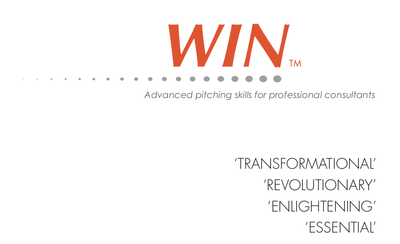 The WIN Pitch Coaching Program


Business: Done By People, For People.

The secret of growing your business paradoxically does not begin by striving to make more sales, but first by building better relationships. Solid business relationships are the product of trust, and trust is built on the bedrock of excellent communication: by people, for people.

The WIN program develops your essential communication skills. This will not only enable you to build great relationships, but also develop your self confidence as a effective communicator in any situation, both through self-understanding and knowing your clients as real people.

Clients will value your business proposition through the filter of their trust in you, based on your ability to communicate your understanding of their needs. No selling required.

New Skills: Investment Keeps On Giving.

Pitching fails can be extremely expensive when measured in lost profits, erosion of brand value, reduced industry ranking, and damage to staff trust in management. Our unique EPC tool can calculate staggering losses routinely incurred because management is not committed, while staff are not trained or rehearsed, and don't fully research clients and opportunities.

Since launching, WIN has continued to evolve over 18 years, coaching almost $100 million in live pitches. Investing in WIN can turn an inexperienced pitching team into a key driver of business prosperity, by increasing pitching success from just 5% success to 50%+ success. A single investment in WIN will resonate across your enterprise. It just keeps on giving.

Professional Pitching: New Business Energy.

WIN is a unique workshop program designed for Executives, Managers, Senior Consultants and Business Development Professionals who are looking for a better, faster and more reliable way to succeed. WIN is suitable for both individual or enterprise application, and can be tailored to support a range of change and growth strategies.

The WIN methodology speeds up the creation of business communications, including pitching, tendering, proposals, brochures, and even meetings, and reduces stress levels. And that can mean massive savings over current practices.

WIN is an intense, fast paced, three-stage program, spread over five days, that is focused on winning business more effectively. Participants work to convert a potential project into a live business pitch or presentation ready for delivery to clients. Workshops are limited to six participants to maintain group intimacy and highly personalised coaching. It is not uncommon for several million dollars worth of live pitches to be created in a workshop simultaneously, which generates an exciting, creative and inspirational learning environment.

WIN can give you a lot more than just a one-off signed deal. It can reshape how your business is valued by your industry and competitors, and by your clients, prospects, employees and shareholders. And it can develop extraordinary communication skills that will continue to inject new energy into your business.