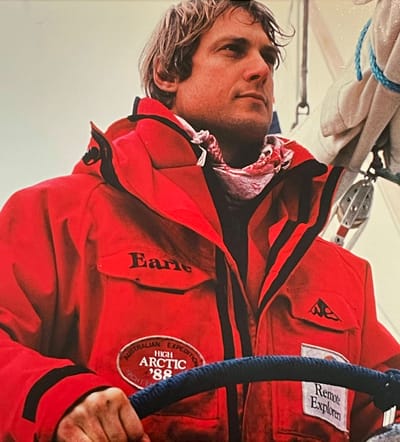 Earle de Blonville, FRGS
Earle de Blonville led Australia's first Arctic expedition, with HRH The Prince of Wales as Patron and Lord Shackleton as chief British Advisor. The project was supported by influential Australians, including Sir John Holland, who built Australia's new Parliament House, and Dr Phillip Law, Founding Director of the Australian Antarctic Division; and by business and political leaders, including the Prime Minister, the Hon Bob Hawke, and the Minister for Science, Prof the Hon Barry Jones. Funding was provided through film rights, and by the expedition leader.
The expedition involved a complex 12 month program that included a sea kayak circumnavigation of Tasmania's SW wilderness coast, the first unaided northerly crossing of notorious Bass Strait, several smaller voyages and training programs, and a crossing of the North Atlantic by yacht to finally begin the objective of a 1,000km sea kayak voyage down the coast of East Greenland.
Earle's film company produced a one-hour television documentary film of the expedition which was released internationally, through Discovery, CBC, BBC, ABC and smaller broadcasters in Europe and elsewhere. His critically acclaimed book of the expedition, 'Seventh Journey', is held in libraries and collections worldwide (and sold out). The new edited and revised edition, 'Savage Coast', is available online, or direct from Bear Books. 'Savage Coast' is described by Sir Gustav Nossal (Chairman of Bill & Melinda Gates Foundation Strategic Advisory Council) as providing "Deep insights into complexity and unpredictability", the key challenges we now face in today's rapidly changing world adjusting to a post-pandemic future.
He began solo sea kayaking at 11 years old, became a professional mountain instructor in the UK, and later was a member of Australia's first modern major sea kayak expedition, a 70-day, 1,600km circumnavigation of Tasmania. In his ice-strengthened yacht and expedition sea kayak, Earle has explored more than half of Greenland's navigable coast. His earlier experience in field science expeditions included Far East Gippsland, for the ANZ Scientific Exploration Society (Chief Leader), and an unvisited region of the Kimberley, for the museums of Victoria and Western Australia (Co-leader). He also undertook field reconnaissance for the Royal Geographical Society's 1988 Bicentenary Kimberley Research Project. Earle was Director of the Tall Ships spectacular where the Prime Minister officially opened Australia's Bicentenary celebrations before an international television audience.
Earle is the Chief Executive Officer of the "Oceanic Research Institute" (ORI), and the founder of Bear Books publishing. He is an Adjunct Professional Fellow at Southern Cross University, Australia; a Fellow of the Laboratory of Applied Bioacoustics, University of Catalonia, Spain; and since 1984, a Fellow of the Royal Geographical Society, London.